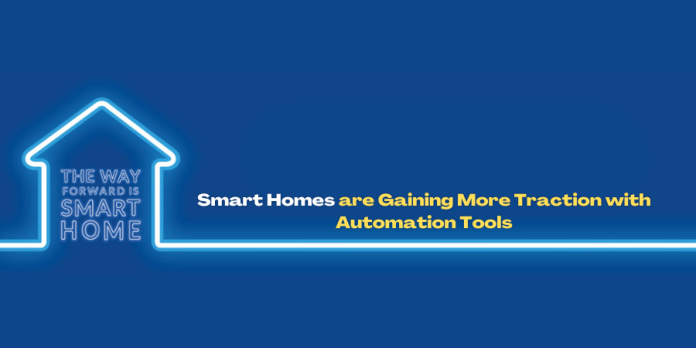 Technology stands as a key to smart homes. Right from door locks; garage-door openers; sensors for lights, audio speakers, curtains, blinds, shades, motion, and air; smart plugs; smart TVs, smart security cameras, up to smart vacuums and appliances, there are so many advances that are making ordinary homes to act smart, look smart and feel smart. App development software companies are eying on integrating automated sensing capability into the apps that can connect seamlessly with other connected devices. This trend is undoubtedly playing a more significant role in today's growth of the home construction market.
Companies like Google, Amazon, Apple Homekit, Tuya Smart, Wink, etc., are venturing into new avenues to allow residents to automate and control the whole home with smart devices. The objective of creating smart homes besides personal comfort is to access home utilities at an affordable price. On top of that, the urge for hyper-personalization and sustainable living are compensated well by smart homes. Rising adoption of the internet, high demand for mobile devices, and awareness about efficient energy are a few more driving factors of smart homes. The demand for smart homes is expected to rise as smart devices become more advanced and facilitate seamless integration of various smart devices with home appliances.
As per Statista, the global revenue of smart homes is expected to grow at a CAGR of 13.9% between 2022- 2026, resulting in a projected volume of $195.2 billion by 2026. In another report, it is predicted that the global smart home market will gain traction due to the increasing demand for convenient, secure and safe-households. .
Some Key Functions and Applications of Home automation
Monitoring air quality
Remote lighting control
Thermostat control
Home security systems and live video surveillance
Automatic alarm systems
Real-time alerts (text /emails)
Voice-activated control
Keyless entry and smart locks
Robotic assistants
Role of Automation Tools For the Rising Demand of Smart Homes
IoT devices:
Smart home devices are connected and controlled through a centralized system or home automation network. The home automation network has become more efficient with IoT (Internet of Things) because everything in the IoT has an assigned IP address that enables users to track and access devices remotely. Many of these IoT devices have sensors that monitor motion, temperature, and light that collect information about surroundings automatically. The IoT-based home automation system residing on the cloud network can operate devices from distant or remote places. Once the action is taken, the system updates the status of the action and sends a notification to the owners. For instance, an IoT sensor connected to a gas line automatically detects leakage and informs owners about it.
Voice Assistant:
The voice assistant has been around for quite some time, but its use has been limited to playing music and getting spot answers. But as automation technologies become increasingly advanced, it is possible to operate the entire home through the voice assistant. There is a huge market for voice assistants, and as per Statista by 2024, the number of digital voice assistants will reach 8.4 billion units. Voice assistant technology relies on a mix of technology such as artificial intelligence, natural language processing, and voice recognition. Smart homes operate home appliances through wireless technology, and voice assistants are extending their capabilities. Modern voice assistants easily sync with various infotainment systems and gadgets. For instance, the user can ask the voice assistant synced in the car to switch on the A.C and cool the place before he reaches home.
Smart robotic assistant:
Smart robotic assistants can be a true ally in operating daily tasks such as cleaning the house, mowing the lawn, feeding pets, or even keeping an eye on aging loved ones. The smart robotic assistant is laden with various kinds of sensors like thermal, temperature, ground detectors, infrared, etc. It can be used in multiple ways. Besides these, robots support voice technology that helps humans communicate easily and optimizes its usability. A typical robot differs from other automation devices or tools because it has a camera mounted on it and can go to any corner of the house. It means that it provides additional security to homeowners and checks the places security cameras cannot reach.  
 Mobile apps:
One of the prime reasons smart homes gain traction is the wide-scale adoption of mobile devices. Mobile users access a wide range of multimedia and live videos in real time through APIs. Mobile application platforms are improvising their framework to build intuitive apps, whereas, on the other hand, mobile app developers have upgraded themselves with the latest skills and technologies that help them to create smart mobile apps. Smart home mobile apps allow users to control and automate any smart home appliances through a single device. Mobile IoT apps that connect to almost any home appliance give users the flexibility to access and control home appliances in real-time. With 5G internet, these apps could become even faster and seamless. More apps can be connected to the smart home network, and users can receive images or videos of superior quality. However, security is a major concern while operating home appliances through mobile apps. Any unauthorized access to a mobile app can leave homeowners vulnerable. Fortunately, developers are implementing strong security features that prevent threats like data modification, leakage, and code fabrication.
Conclusion:
In the era of ease and convenience, smart homes can help homeowners to enhance their lifestyles. However, smart homes have been envisioned not simply as a mode of luxury or comfort but as a way of affordable living by saving on energy costs. Cutting-edge technologies like IoT and AI are acting as a true facilitator to make homes fully automated and sustainable. Their ability to connect various devices and control them independently is a driving force for the expansion of the smart home market. Besides, rapidly evolving automation tools and continuous efforts made by automation providers to make products intelligent are helping smart homes to gain more traction.
Apart from this if you are interested to know more about Smart Home Installation Costing then visit our Business category