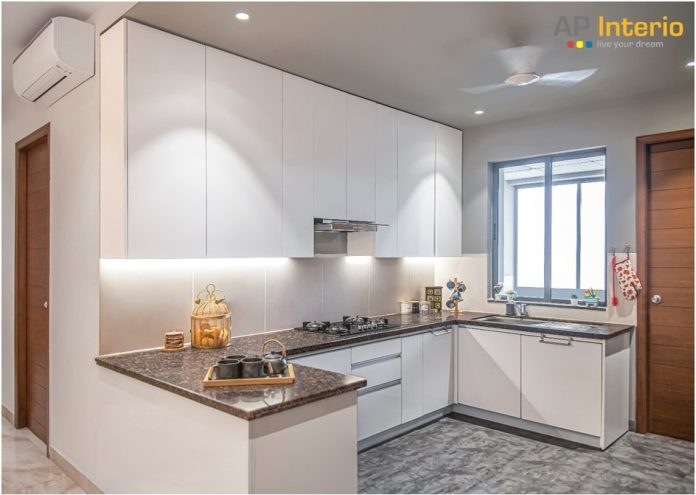 Every home deserves a well-organised and elegant-looking modular kitchen. Whether you cook a wholesome meal daily for your family or love to try out recipes in a while, a modular kitchen keeps you going. So, if you're planning to upgrade your place or are already in-between the process, this article will help you.
Let's dive into some state-of-the-art and pocket-friendly kitchen designs from leading experts and furniture manufacturers in Pune. Whether you live in an apartment or a house, these quick tips will help you get started.
First, Understand a Modular Kitchen's Elements
Before you visit modular kitchen manufacturers in Pune, it's essential to understand the main modular components. Modular furnishings for the kitchen have pre-made cabinet parts fitted to create functional furniture. The cabinet modules are made up of different materials to facilitate your requirements. Some of the common elements of a kitchen are:
Wall cabinets for overhead space.
Functional shutters for cabinets.
A countertop made up of granite, marble, or any other materials.
Hardware such as hinges and knobs.
Once you decide what to include, you can get a personalised design and quote from kitchen manufacturers in Pune.
Understand Your Requirements
Everyone's cooking style is different, and so are their requirements for a modular kitchen. The first step is to understand your cooking habits and routines. It will aid you to decide what kind of cabinets, shelves, or racks you need in your kitchen.
For instance, if you frequently use the microwave oven, toaster, or electric kettle, make sure there's enough space to place these appliances on the countertop or in the cabinet. On the other hand, if you are short on space, go for wall-mounted cabinets that save floor space and make it quicker to clean the kitchen. Then, based on your requirements, ask the furniture factory in Pune to create a personalised design to improve the kitchen's usability.
Pick the Cabinet Materials and Finishes Carefully
You will find several robust materials and finishes for your budget-friendly modular setup. Laminates are excellent budgeted materials available in different colours, textures, and designs. Go for natural wood veneers or lacquered finish shutters if you need a more sophisticated look.
A pro tip here is to go for materials that require less maintenance and is easy to clean. It will save you a lot of time and effort in keeping the place tidy and new-looking.
Moreover, you can use a combination of artificial and natural light sources to deck up the space. For example, install recessed lights under the wall cabinets and pendant lights above the countertop or dining table.
Budget-friendly Countertop Ideas
There are many elegant materials to choose from when it comes to countertops. But, if you're working with a budget, go for marble or granite stone countertops. They give a lively look to the kitchen and are easy to clean and maintain. Also, you can consider using ceramic tiles or engineered quartz as a budget-friendly option for your modular kitchen.
You can go for L-shaped, U-shaped, or straight countertop designs, depending on the kitchen size. Also, make sure there's enough leg space to move around while cooking. Visit your nearest modular home furniture in Pune to explore elegant designs available in various countertop shapes.
Go for Contemporary Backsplash Designs
Your backsplash is one of the most visible areas in the kitchen, and it's your opportunity to make a stunning style statement. There are several contemporary ideas that you can use to design an attractive backsplash. You can use mosaic tiles, patterned wallpapers, or even go for bold and solid colours.
For a budget-friendly option, you can use ceramic tiles in different designs and colours. You can also use these tiles to create exciting patterns or borders. If you want a more sophisticated look, go for glass tiles that reflect light and make the space look bigger.
You can also use stainless steel sheets as a backsplash material. They are easy to clean and maintain and give a contemporary look to the kitchen. You can get these sheets cut according to the desired size and shape.
Install Chest of Drawers
If you are short on open space, consider installing a chest of drawers in the kitchen. They are a great way to store utensils, cookware, and other kitchen essentials. You can also use them to create additional storage space in the kitchen.
When choosing a chest of drawers, make sure they are durable. Also, pick a design that goes well with the overall kitchen decor. If you want to create more storage space in the kitchen, consider installing additional shelves and racks.
Why Choose AP Interio for Modular Kitchen Furniture in Pune?
AP Interio is among the leading modular furniture manufacturers in Pune, offering you a complete range of budget-friendly modular kitchen solutions. We use high-quality materials and advanced technologies to create elegant and functional designs. When you choose AP Interio, you get:
Highest-quality Materials:
We use the best quality materials to create our modular kitchen and home furniture. So you don't have to worry about the durability or longevity of our products.
Attractive Designs:
AP Interio has a team of experienced designers who create elegant and stylish designs. You can choose from a wide range of designs that suit your taste and budget.
On-time Delivery:
We understand the importance of timely delivery. Therefore, we ensure that your home furniture in Pune is delivered on time.
Read more:
Apart from that if you want to know about Buy Stylish and cheap Jeans then visit our Home Appliances category.