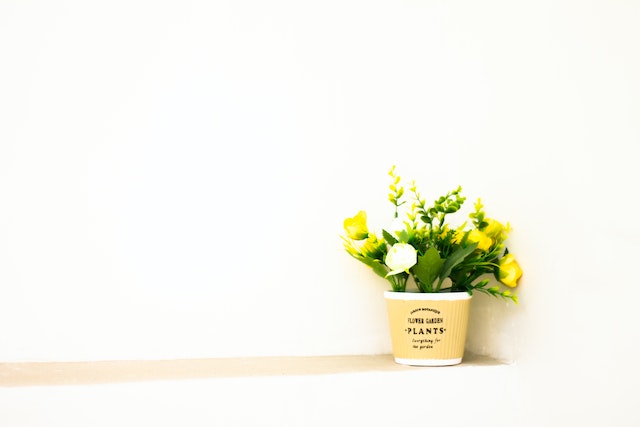 Image from Pexels
The process of preparing the home for a big event might seem overwhelming, but it doesn't have to be. With artificial flowers, even the drabbest room may be made to seem warm and welcoming. Faux flowers, on the other hand, require almost little upkeep, endure far longer than real ones, and lend themselves to countless design options.
Faux flowers may be a beautiful addition to any event, whether it's a wedding, a birthday party, or a holiday party. Faux flowers come in a broad range of colors, styles, and arrangements, letting you get the look you want without the work and cost of real ones. In this article, we will go through five reasons why Faux Flowers are great for decorating.
5 Reasons Why Faux Flowers are Great for Decorating
1. Simple to Maintain
When compared to genuine flowers, fake ones require almost little maintenance. They won't wither or droop over time, even without the caretakers' usual tending of watering, trimming, and fertilization. Because of this, they're great for folks who are often on the go or who just don't have time for watering, trimming or fertilization.
2. Long-lasting
In addition to enduring several events, faux flowers look real and are long-lasting. They can be used for different gatherings and events, or you can re-purpose them by mixing other florals and transforming them into a unique flower arrangement to take center stage in your entrance hallway.
3. Cost-effective
When you need a lot of flowers for a big event or celebration, the cost of real ones may add up quickly. Faux flowers are cost-effective and the money you save on fake flowers, though, will add up over time. This money that you save by using faux flowers can be put towards other aspects of your life.
4. Versatile
Fake flowers may be found in a wide range of hues, designs, and varieties, making them ideal for decorating for any event. Artificial flower varieties can be combined to make a one-of-a-kind display.
5. Allergen-free
Those who are allergic to pollen may find it difficult to use real flowers. But artificial flowers will not trigger any allergic responses or sneezing because they are not made from living organisms. So, you and your guests can enjoy the flower arrangements without any problems as you won't have to worry about any of them getting any allergies.
Tips on Using Faux Flowers
1. Finding the Perfect Artificial Flowers
Choosing the proper sort of flower to use while decorating with fake flowers is crucial. Choose the best quality flowers you can, as high-quality faux flowers come as near as possible to the feel, color, and look of actual flowers. Good quality faux flowers are also long-lasting.
2. Pairing Faux Flowers with Other Decor Elements
When using faux flower arrangements as part of a presentation, it's crucial to coordinate their placement with the rest of the accessories. It's a good idea to use vases, containers, and other ornamental items that go well with your artificial flowers' color scheme and design aesthetic.
3. Placing Perfectly
Faux flowers are a terrific alternative to genuine flowers, but if they are not put properly, they will seem false. Floral foam, wire, and other materials can help you mold and place your artificial flowers to achieve a lifelike arrangement. Experiment with several configurations until you get on one that works visually.
Care and Maintenance of Artificial Flowers
1. Purifying Artificial Flowers
Though faux flowers don't require any maintenance they can accumulate dust and grime over time which can make them look dull and diminish the beauty of these artificial flowers. Cleaning them regularly will help them retain their original appearance. You can clean fake flowers with various tools, such as a soft brush or cloth, a hairdryer on low, or a can of compressed air.
2. How to Properly Store Artificial Flowers
Proper storage is essential if you want your fake flowers to last as long as possible. Damage or distortion from incorrect storage can diminish their value and make them seem terrible. The best way to store artificial flowers is by placing them in acid-free tissue paper or boxes and keeping them out of the sun and the rain.
3. Renewal of Artificial Flowers
Fake flowers can fade in color and texture with time, making them look old and used. Yet, with some work, they may be brought back to life and made to appear brand new once more. A fabric steamer or hot water bath, clipping and reshaping the petals, spray painting, or using floral colors are just some of the methods that might be used to bring life back into the faded artificial flowers.
Conclusion
If you don't want to spend a lot of money on genuine flowers, fake ones are a great substitute. They are great for any event or décor because of their many benefits, including being low-maintenance, long-lasting, and flexible. Faux flowers may be used again without losing their luster if you follow the advice given for utilizing them. In addition, artificial flowers may be just as lovely and appealing as genuine ones, but without the hassle of continual upkeep, such as watering, pruning, and replacing. Hence, artificial flowers are a great option if you want a long-lasting decoration or a low-maintenance approach to bring color and vitality to your environment.
Apart from this, if you are interested to know more about Autumn Nights then visit our EXTERIOR category.