Nobody wants to deal with horrible pests whether they are spiders, termites, roaches, mice, rodents, bed bugs, ants, or any sort of spooky crawlers. Undoubtedly, it is hard to exterminate them once they start to infest our personal spaces or workplaces. Each person has a different perspective to deal with the pest crisis. Some might tell you to try their so-called tried and tested DIYs whereas others might suggest you should appoint professional pest control in Gurgaon. Whether you live in a rented apartment or have a personal space to reconstruct, the peril of pest infestation will always be there. So, preparing a backup plan and taking all the relevant precautions to prevent them is one such way to combat them. Generally, sudden climate change and temperature may give rise to the growth of pests and they procreate themselves at an exponential speed. Most people thought it could be easier to deal with pests on their own but it demands a lot more than they think. The situation determines whether you should opt for DIYs or need professional help.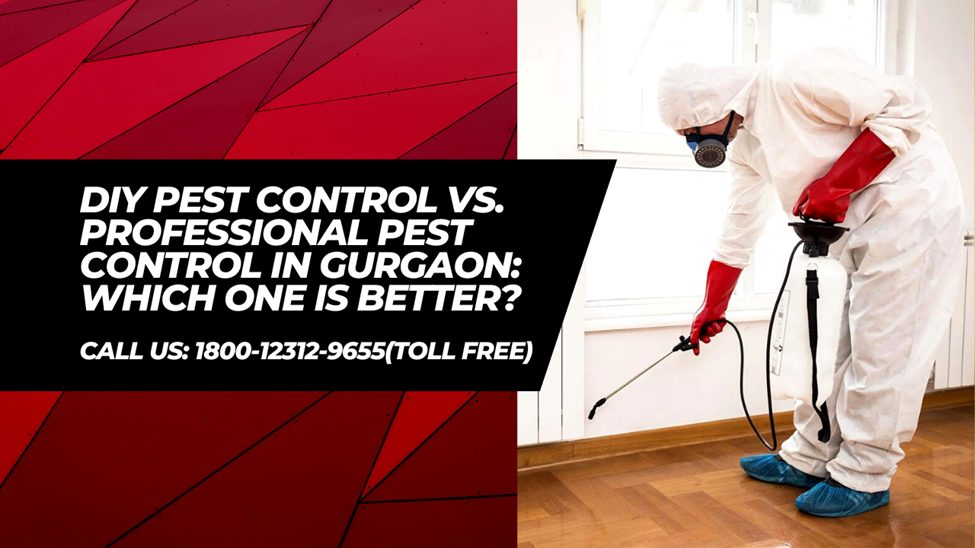 6 Prominent ways to decide on what's best for you!
Based on the scope of the infestation- A decision should be made in accordance with the size and scope of the infestation. If the situation is out of control then do consider professional pest repellers to ward off the pest permanently. Here, the DIY thing cannot be implemented; as a consequence, it gives you health-related hazards and detrimental effects on your health.
Expenditure- If you opt for DIY then you has to rush to the market to buy chemicals which are less expensive than hiring professionals. However, we can't always give attention to money, our health is important before anything and pro pest controllers repel the issue from the roots. They are more effective
Comfort and convenience- Undoubtedly, having someone's back is no less than a luxury comfort. In case of pest infestation, it is convenient to hire professional pest control in Gurgaon from a reliable source. They know how to deal with different types of pests, have a variety of chemical repellants, have the right equipment to treat deep corners below the ground and have knowledge of the right quantity to mix two products.
Health honors'- Inaccurate or excessive use of chemicals might harm your respiratory system which leads to severe health hazards. Also, it affects the kids, pets, and old members of the family. By hiring an effective pest control company, you can reduce the risk of detrimental health.
Understanding of chemicals- You have to accept the fact that we are not experts and don't have adequate knowledge of chemicals. We only rely on local shops to give us pest repellant. Is that really worth it? On the contrary, professional pest exterminators hold expertise and sound acquaintance in detecting the type of pests. For example; there are two types of termites first is subterranean termites and the other is dry wood termites. The nature of these two is completely different so is the treatment. Lack of knowledge about chemicals compels individuals to apply the wrong chemical which results in effectiveness.
Effectualness- We have already clearly mentioned that "Do It Yourself" is only suitable for a lesser degree of infestation. It won't be effective on a massive scale. Therefore, professional treatment makes a huge difference and treats every kind of pests in a much more effective way.
Pest eradication has become a necessity and we should take immediate against them with the help of pest control in Gurgaon. With the right use of chemicals and the utilization of proper supplies, you can easily get rid of those malicious creatures. Sometimes, we cannot suspect that there are pests until and unless there won't be any sound of squeaking and shrieking. However, termites don't make any noise. You can examine them on the basis of a few indicators such as hollow walls, blockage in doors and cupboards, cracked internal walls, etc.
Apart from this if you are interested to know about DIY pest control vs. professional Pest Control then visit our Pest Control category.