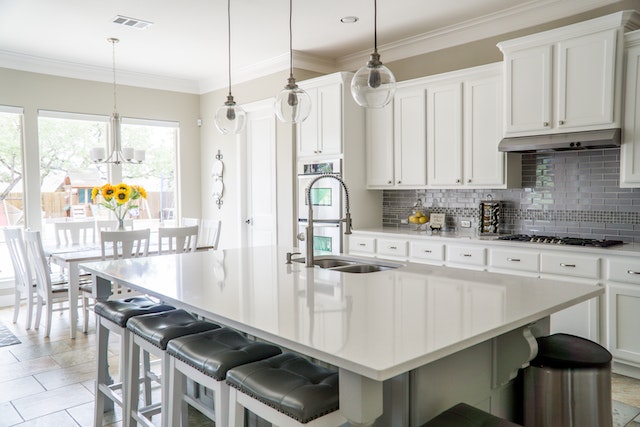 With years of use, your kitchen will eventually need an upgrade. Sometimes the improvements are strictly cosmetic, but most people prefer to do a significant renovation to bring many different parts of the kitchen up to date in a single project. If you're at that point with your kitchen, consider these six major areas to include in your project.
Efficient New Appliances
Most people think about new appliances in their first moments of planning a kitchen upgrade, and that's with good reason. Old appliances are short on features, high on maintenance, and sometimes sky-high on energy consumption. It doesn't take many years of hard use by your family to leave your kitchen appliances worn and in need of repairs or even replacement. Start the research on your options right away so that any special allowances for space or utilities can be built into the project from the very beginning instead of becoming a disruption during later stages of work.
Faucets & Filtration
The availability of clean water is something we often take for granted. We turn on the faucet, and water comes out. As it turns out, though, there are two very uncertain factors in that assumption. The first is that we have an unlimited supply of affordable water, and the second is that the water at the tap is right for cooking and drinking. You can address both of these concerns during a kitchen upgrade. A new faucet for your kitchen sink can reduce water consumption so that you can save on utility bills, and a filtration system attached to that faucet will reduce hardness and eliminate some contaminants for better water.
Countertop Appliances
During kitchen upgrades, we often focus exclusively on the big appliances like the range and refrigerator. However, your new kitchen can also be improved with smaller equipment. Finding space for a toaster oven or a hoshizaki ice machine can give you great functionality with lower consumption of electricity as compared to using larger appliances for those small-scale functions. If all you're cooking is a french bread pizza, there's no need to turn on the entire oven. Let these little upgrades simplify your kitchen and save you real money on utilities. They'll also reduce the wear and tear on larger, more expensive appliances.
New Countertops
Your countertops may be the hardest-working part of your kitchen. They are subjected to the most cleaning, the most knife contact, and the heaviest loads. They are also highly visible, which is a big problem if their color or pattern is out of style. During your kitchen upgrade, countertops should be high on your list of priorities. You'll be pleasantly surprised at how their appearance can really shift the look of your kitchen. Replacing them also gives you the opportunity to replace your sink with a different style for easier cooking and cleaning. It will also be a great chance to eliminate hard-to-clean surfaces like granite that turn out to be more trouble than you wanted.
Fresh Cabinet Doors and Drawer Fronts
Some homeowners balk at the prospect of a kitchen upgrade because they fear that their budget will be wrecked by the high cost of new cabinets. While it's true that a total replacement of all cabinetry will set you back thousands of dollars, it's worth noting that you can do your kitchen a lot of good cosmetically and functionally by simply replacing the doors and drawer fronts, including their handles and knobs. These are the areas that take the most abuse from a busy family, and you can replace them for a fraction of the cost of new cabinets.
Better Lighting
Kitchens are tough to plan when it comes to lighting. On the one hand, you need a bright space for reading recipes and measuring ingredients. On the other hand, you don't want the room lit up like a sports stadium. You also need light in very specific work areas and not just throughout the kitchen. During your upgrade, you should look into options for lighting to mount under your wall cabinets. These fixtures will easily illuminate your work areas for shadow-free food preparation. Your ceiling fixtures can also get a facelift with modern, low-energy units that provide light throughout the room when you want it.
Any upgrade to your home will involve some expense and trouble, but a well-planned project will make all the inconvenience worthwhile. Before you start work, think about what your kitchen needs so that you can make a comprehensive improvement to the whole space.
Apart from that if you want to know about then visit our Home improvement category.
What should be updated first in a kitchen?
When it comes to updating a kitchen, there are a few key areas that should be addressed first. One of the most important updates to consider is the cabinets. Replacing or refinishing outdated cabinets can instantly transform the look and feel of a kitchen. New cabinets can also improve functionality by providing more storage and organization options. Additionally, updating cabinet hardware can be a simple and cost-effective way to refresh the overall style of the kitchen.
Another area to prioritize is the countertops. Old, worn out countertops can be unsanitary and unappealing. Updating countertops can instantly elevate the look of the entire kitchen, and it can also increase the value of the home. Popular countertop materials include granite, quartz, and marble, but there are also many affordable options available, such as laminate and butcher block.
Finally, replacing old appliances can also be a great way to update a kitchen. Newer appliances are often more energy-efficient and come with modern features that can make cooking and cleaning much easier. Stainless steel appliances are a popular choice for their sleek and modern appearance, but there are also many other options available to suit any budget and style. By focusing on these key updates, a kitchen can be transformed into a more functional and attractive space.