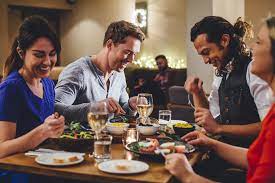 Introduction:
Food is not just about appealing to your taste buds. The experience is much more than that, for why would people prefer going to fancy places when they are out on a date or a classy restaurant for their birthday dinners? Ambiance has a lot to do with setting the mood and tone of the crowd, be it for weddings, dinners, official meetups, or just catching up with your friends.
Source: https://unsplash.com/photos/8DM2CUJkkBA
While you cannot precisely replicate a restaurant-like experience at home, you can create such a dining experience at home, that too, within a budget! Whether you are looking for birthday places in Bangalore to celebrate or a venue for an unofficial office gathering in Delhi, all of it can be done in the comfort of your home. All you need is to get creative with your tablecloth ideas.
Traditional tablecloths are classic but boring at the same time. If you want to spice up your dining experience for a party or a dinner date, this blog post is for you. This blog post will list the top 5 tablecloth alternatives for your dining experience.
1. Cut it up with a kraft paper
Who knew we could use kraft paper for anything other than a craft, right? If you want to give your dining experience a rustic feel and within a limited budget, kraft paper is a beautiful alternative to a tablecloth. Kraft papers can be convenient if you are looking to organize a kids' party and want to give the kids a fun and memorable experience altogether. How do you ask? Well, kids love drawing and doodling, and nothing would compare to when the kids can munch on their favorite snacks while coloring with crayons! (Psst, it will also save your table from getting dirty as you can quickly dispose of the kraft paper!)
2. Poof it up with Tulle
In our opinion, there is no prettier alternative to a tablecloth than Tulle. If you are unfamiliar with Tulle, it is the fabric used to make a bride's veil and wedding dresses. While this may put you under the impression that Tulle might just be available in one color, that is not true. Tulle comes in various shades, as you can see in some of those poofy gowns. It's the perfect tablecloth alternative for wedding receptions, parties, and a Quinceanera! This beautiful fabric will romanticize the air like no other.
3. Lace it up with, well, lace
Another beautiful and excellent alternative to the bland and generic tablecloth is lace. Lace is just the perfect fabric to give any of your occasions a formal atmosphere. Are you aiming for a traditional wedding dinner? Lace can do it. Want a fancy yet classy office party? Lace is here at your service. Lace is inexpensive and can be easily washed, which makes it the perfect tablecloth alternative in case of spills or soiling. Moreover, they give the entire dining setting a beautiful and welcoming look. Formal yet homely, what more can one ask for?
4. Cover it up with a blanket
If you are feeling lazy and don't want to go for an unnecessary shopping trip for a tablecloth, then blankets are one of the most accessible alternatives to opt for as a tablecloth. We own a ton of blankets in all shapes, colors, and sizes. It's time that we take them out and use them for purposes beyond picnics. The different prints can even set the mood for different seasons. They are the perfect alternative for feeling lazy and can save money and a store trip!
5. Spice it up with scarves
Do you have scarves in your closet that you once bought out of excitement but then never wore them? Well, it's time to get them out because they can make for one of the most unique and best alternatives for a tablecloth. Scarves can give your table a colorful, one-of-a-kind look that can't be easily replicated. They're the perfect alternative when hosting tea parties and brunches.
Final thoughts
Finding tablecloth alternatives to enhance your dining experience isn't that hard. You only need to get a little bit creative, and you can turn almost any fabric at your home into a beautiful and unique tablecloth.
Apart from that if you want to know about then visit our Tech category.