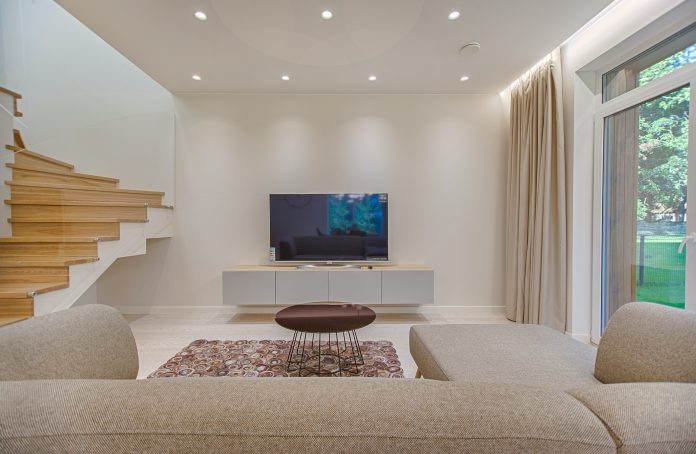 Have you decided that your living room looks too plain and uninteresting? Well, don't worry. There are five ways to enhance your living room decor without trouble. Just follow these simple tips to make your living room look great in no time!
1. Rugs
When choosing a rug, you should consider the color and shape of your room. A patterned rug can add visual interest and excitement to an otherwise plain space.
You can choose from rectangles, ovals, or squares, depending on the furniture arrangement in the room. If you're working with a minimalistic or traditional design, a statement monochrome rug will add a pop of pattern to ample floor space.
2. Wall Art
One way to add visual interest to your living room is to hang a painting. Wall art for living room areas is the focal point that can make a more dramatic impact, while a small piece will fit nicely against a narrow wall near a doorway. Framed artwork is also a great way to add depth to a living room decor scheme.
Artwork adds character to a modern living room, so you should consider purchasing abstract art to add to the decor. It will add emotional energy and class to your room. Abstract art can be minimalistic and soulful or have a more pronounced focal point. Whatever you choose, make sure it fits into the room's overall look.
3. Centerpieces
If you are decorating a living room, artifacts are the perfect way to add unique style and interest. You can display artifacts from your travels to make the space feel more personal.
A sculpture in the living room can be a perfect conversation piece, and you can also place some parts strategically throughout the room. Decorative objects, such as vintage or antique objects, are great ways to add personality to the space.
According to the New York Times, adding centerpieces to your living room decor will give it depth and dimension. Centerpieces should stand out from the rest of the furniture in the room. The more eccentric and unique the pieces are, the better.
For example, a colorful chair will add vibrancy to a neutral space. You can also use accent pieces to decorate your walls, such as a picture or piece of artwork. Just remember that they should be functional, too, as they will help your living room stand out from the rest.
4. Bookshelves
A bookshelf is a necessary piece of furniture in almost every home. Not only does it hold your favorite books, but it also serves as an attractive decorative accessory. Bookshelves come in all sizes and shapes, ensuring they fit into any decor scheme.
Smaller ones are ideal for storing selected volumes, and larger ones can be used to store multiple books and even serve as decor accessories. And if you have limited wall space, bookshelves can be a great way to incorporate the area.
The perfect bookshelf can be an eye-catching accent for your living room. You can choose from several different styles and finishes, and you can also use your bookshelves to display your favorite books.
Choose a color scheme that matches the rest of the room. This is a popular decorating idea that will grab your guests' attention as soon as they walk into the room. You can also add a gallery-style lighting fixture to bring out the best of your collection.
5. Embroidered Throw Pillows
Decorative pillows are the perfect way to update your living room decor and bring a modern touch. Whether you have a contemporary or traditional look, these pillows are an affordable and functional way to add personality to your space.
If you want to add a pop of color to your living room decor, you can choose from patterned throw pillows. There are many types available, including patterned and solid-colored.
Decorative pillows are easy to mix and match because they come in solid colors or contemporary patterns so that you can create many different looks in a single room. Decorative pillows also add a personal touch to any space.
Conclusion
Decorating your living room doesn't have to be a daunting task—it can be pretty straightforward. Improving your decor will surely give you a lot of personal satisfaction, and it's sure to make your living room look fabulous. You've got nothing to lose, so try these tips out today!
Apart from this if you are interested to know more about 8 Tips to Dress Your Home's Decor with Luxury then visit our DECORATION category.