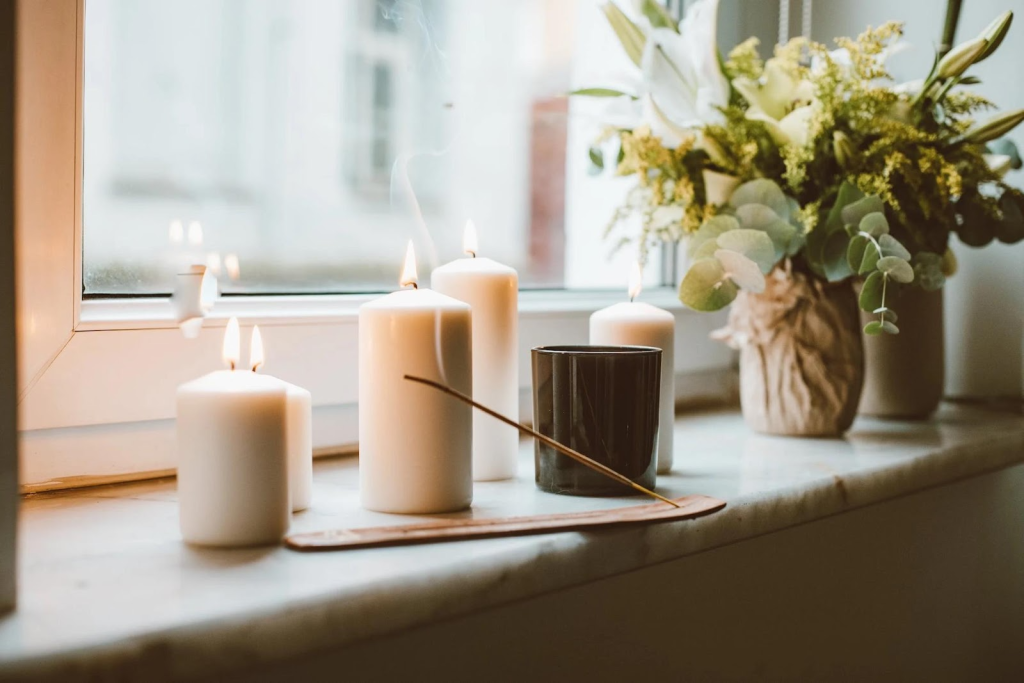 Source: https://www.pexels.com/photo/candles-and-incense-burning-on-window-sill-and-green-bouquet-6206142/
Window sills offer a lot of potential for creativity and innovation. They are often overlooked, but they can be used to display plants, artwork, or other decorations. They can have an abundance of very practical uses too. In this blog post, you'll learn 12 innovative and inspiring ideas of what you can do with your window sills!
Particularly in smaller homes, people are often on the look-out for ideas of how to make more of the space they have. Window sills are often overlooked in this respect, but they hold tremendous potential for both creativity and practical uses. So here are 12 ideas for how you can make the very most of your window sills.
1. A Plant Display
Window sills are great places to display plants or herbs, as they get enough light to keep them healthy. Plus, they look beautiful when you arrange them along the sill in an asymmetrical pattern. If you're looking to grow some of your own herbs, small vegetables or even cannabis such as the georgia pie strain, using window sills can be a great use of space, as well as providing optimal growing conditions.
2. A Message Center
Keep important reminders, notes, and even photos in view but out of the way by using your window sill as a message center. A corkboard or whiteboard placed on the window sill is a great way to keep track of what needs to get done, and can even be used as an area to display art or photos.
3. A Shelf
Window sills make great shelves for books, electronics, or other items that you don't want lying around. The ledge of the window sill creates a natural shelf, so you can easily use it for storage without having to install extra shelves. This can also save space in the main living areas of your home, as adding shelves to the walls can make a space feel smaller too.
4. A Reading Nook
Window seats are great spots for reading, but if you don't have the space or budget for a window seat, then why not turn your window sill into a reading nook? Simply add some cushions and you've got yourself an extra space to relax and read in.
5. A Work Desk
Window sills make great work desks for laptops, tablets or writing materials when you don't have the space for a separate desk. The natural light from the window will help keep you alert, and you can easily store your items in nearby shelves or drawers when not in use. Plus, it can be great to look out over something while you're working, and will give you a boost of Vitamin D too.
6. A Coffee Station
If you're short on kitchen counter space, a coffee station on your window sill is a great way to make use of the extra space. You can easily store your coffee maker and mugs on the sill, so that you can quickly make a cup of coffee in the morning.
7. A Cat's Perch
If you have feline friends, then why not create a special window sill perch for them? A simple wooden box with a cushion on top can make the perfect spot for your cats to sit and watch the world go by. You can even add a scratching post or toys nearby too, if your cats need some extra entertainment.
8. A Plant Stand
Window sills can make great plant stands, so that you can keep your plants at the perfect height for watering and display them in a more prominent spot. An old wooden crate can make great shelving, and you can even add some hooks on the sides to hang smaller plants.
9. A Greenhouse
Your window sill can also act as a mini greenhouse, providing the perfect environment for your plants to thrive. Place small pots of herbs or flowers on your windowsill and add a plastic covering to the window. This will help create extra warmth and humidity, whilst still allowing light and air to reach the plants.
10. An Art Studio
Window sills can make great art desks too, as they're large enough to hold your supplies, but still narrow enough to fit into smaller spaces. You can easily store your art materials on the sill and use the light from the window to help you see what you're doing. It can even be a great spot to take photos or paint small works of art.
11. An Art Gallery
If you're an artist, why not use your window sill as an art gallery? Hang up small pieces of artwork or photographs on the window sill and let your creativity run wild. You can even use the windowsill to display antiques or other collectibles, such as coins or trinkets. This can add a unique touch to any room, and will help make your home feel even more personalized.
12. A Welcoming Space
Finally, window sills can be great for creating a welcoming space. Hang up a string of fairy lights or drape fabric over the window sill to make it more inviting. You can also add a cushion or two, so that you can sit and enjoy the natural light without having to leave the comfort of your home. This is especially great if you're living in a small space and don't have much room.
With a few simple ideas, you can transform your window sill into something more than just a place to put plants and trinkets. Whether you're looking for a place to read, work or display artwork, your window sill can be the perfect spot for all of these activities. So, get creative and make the most of your window sill today!
Apart from this, if you are interested to know more about Your Home then visit our HOME APPLIANCES category.